Remember the good old days when a website used to be nothing more than a bunch of files on a web server and a database back end? Life was simple, easy to manage and gloriously inefficient. Wait – what? That's right, all we had was a hammer and we consequently treated every challenge like the proverbial nail that it was so we solved it in the same way with the same tools over and over again. It didn't matter that an ASP.NET website on IIS was woefully inadequate at scheduling events, that's all we had and we made it work. Likewise with SQL Server; it was massive overkill for many simple data persistence requirements but we'd spent the money on the licenses and we had an unhealthy dose of loss aversion coupled with a dearth of viable alternatives.
This was the old world and if you're still working this way, you're missing out big time. You're probably spending way too much money and making life way too hard on yourself. But let's also be realistic – there are a heap of bits in the "new world" and that means a lot of stuff to learn and wrap your head around. The breadth and depth of services that constitute what we know of as Microsoft Azure are, without a doubt, impressive. When you look at infographics like this you start to get a sense of just how comprehensive the platform is. You also get a bit overwhelmed with how many services there are and perhaps confused as to how you should tie them together.
I thought I'd take that aforementioned infographic and turn it into what Have I been pwned? (HIBP) is today. Oh – and speaking of today – it's exactly one year since I launched HIBP! One of the key reasons I built the service in the first place was to get hands on with all the Azure services you'll read about below. I had no idea how popular the service would be when I set out to build it and how well it would demonstrate the cloud value propositions that come with massively fluctuating scale, large volumes of data storage and a feature set that is distributed across a range of discrete cloud services.
Here's the infographic, click through for a high-res PNG or go vector with PDF and read on after that for more details on how it's all put together.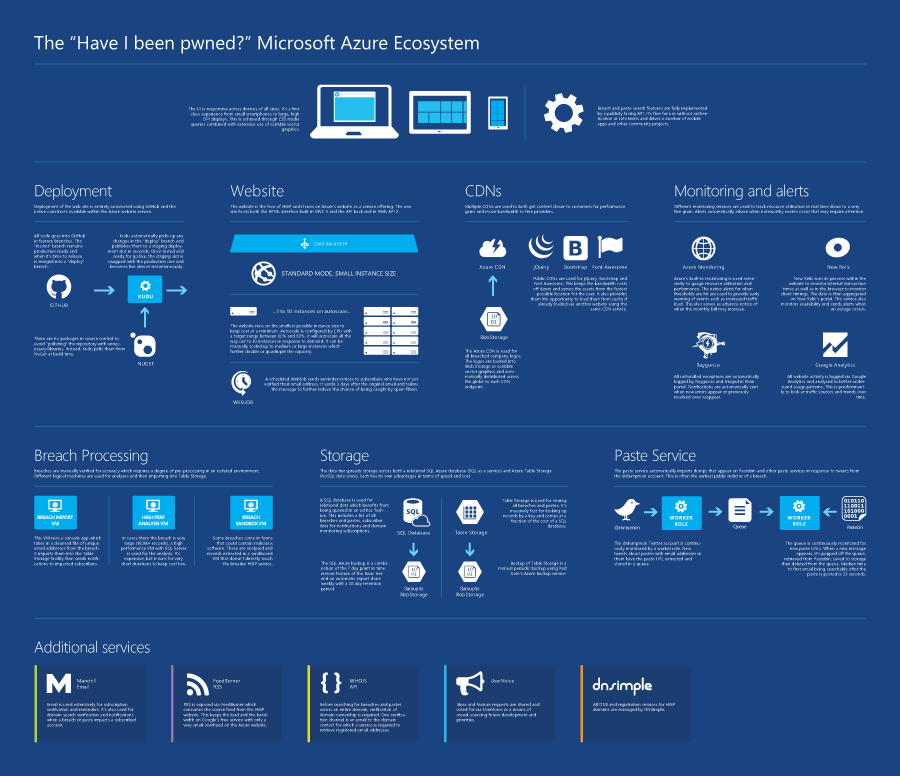 So that's the big picture, now let me fill in the details.