Inside the Microsoft MVP summit chocolate factory
13 March 2012
Being awarded an MVP title and attending the annual summit is a little like getting your hands on one of these: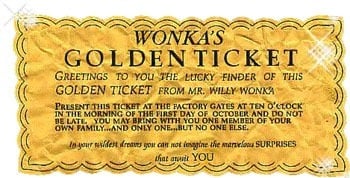 Suddenly you feel all Charlie Bucket, ready to gorge on the wonders that exist behind the doors of the mysterious Ballmer Wonka chocolate factory. Whilst an extensive amount of the information shared remains under NDA (more on that shortly), I'd like to share some insight from the program and the event which might shed some light on some of the mystique.
The conference that money can't buy
The MVP summit – and the MVP program in general – isn't something you can buy your way into. You can't study for an MVP certification or take a course and you definitely can't get your way in because your company does $X of business with Microsoft. Just to recap briefly on the "what" and "why" of the program, here are the key criteria:
At Microsoft, we believe that by participating in technical communities, MVPs enhance people's lives and the industry's success. Your participation in these communities promotes the free and objective exchange of knowledge. You are recognized in technical communities as a reliable, independent expert, benefiting all who participate in communities. Your expert advice and influence in technical communities help users adopt new technology and help Microsoft understand and meet our customers' needs.
Free, objective and independent are the keys here. I was awarded my MVP status because I openly contributed developer security expertise to the .NET community without any expectation of reward. At times, I've also been critical of Microsoft and like all MVPs I've met, we frequently exhibit our independence by speaking openly about what we don't like in the Microsoft product suite. And they're very happy for this to happen – it improves the breed. Of course I do this in an objective, balanced way (like I would with any company), rather than as a raving lunatic; call it constructive criticism, if you will.
Exactly how the MVP process runs internally is a subject of some contention. After all, it's a ginormous program covering a very broad range of technologies in a very fast-paced industry. It's also Microsoft's ballgame – as I said above, you don't buy your way into this, they award people on merit and at the end of the day they have the right to run it however they please.
Going back to the heading above, the rollcall of speakers and content make this event, without a shadow of a doubt, the most valuable conference I've ever seen. Anywhere. This is literally the people who designed the languages, built the products and run the teams talking not only about what's hot today, but how it came into being and what you can expect to see tomorrow.
The value of community
On many separate occasions, Microsoft reiterated the importance of "community" to their success. They take this very, very seriously and the scale of the MVP summit was a good indication of this. I've seen this from the outside – particularly over the last decade – but seeing this from the inside really brings it home.
Microsoft has many different constructs to engage with the community and the MVP program is just one of these. What makes this program a little different to many of the others is that it's a very cyclical process; yes, MVPs can derive enormous value from the support that Microsoft offers them but they also contribute directly to the betterment of the products that Microsoft make. There were many, many opportunities of varying levels of formality where this happened over the period of the summit.
But of course this concept of "community" goes well beyond just Microsoft engaging with MVPs; the summit was a significant opportunity for MVPs to engage with each other at a level you just don't reach online. It was a chance to build new relationships and support networks of great personal and professional value whilst reinforcing those which previously only existed in an online world.
Ultimately though, this whole "community" thing simply boils down to the open exchange of knowledge. Its professionals engaging with each other around a common interest without corporate politics or hidden agendas. It's actually very refreshing!
Content
Let me recap on that NDA piece first: All MVPs sign a non-disclosure agreement so that they can be privy to information which Microsoft is not yet ready to share publicly. This is entirely understandable – they're running a (significant) business and whilst they want active engagement with the MVP community, they also want to retain a competitive advantage. By all accounts, the sanctity of the NDA is taken very seriously so you won't see me writing about anything which isn't already in the public domain somewhere or has explicitly been ok'd by Microsoft for public distribution.
My time at the summit was split very much between security and development streams. Many MVPs clearly align to a specific product (Word, ASP.NET, SharePoint, etc.) so their expertise and area of interest is pretty clear. For a Developer Security MVP who specialises in the web, I find my interest being spread across Visual Studio, ASP.NET, IIS, SQL Server and Internet Explorer so I spent a lot of time maximising my exposure to all these streams.
The summit's timing aligned with the launch of the Windows 8 Consumer Preview and Visual Studio 11 beta so obviously there was a lot of discussion about this. The Visual Studio colour scheme in particular was a point of, uh, let's just say "extensive and robust discussion"! But we also have .NET 4.5 just around the corner and with it some significant changes to ASP.NET in both web forms and MVC plus of course the new web API (which I'll write about separately shortly).
I also spent quite some time listening to Scott Guthrie talking about Azure. Poor Scott, he was on stage in front of many of his customers the day after a very significant Azure outage so it wasn't great timing for him. Having said that, he handled responding to the outage and talking about the Azure roadmap in general in his usual open, honest, no BS fashion which has made him such a popular guy in the developer community. I found his talk particularly interesting given that just about everything seems to be about "the cloud" these days and, well, I'm running into that NDA now – let's just say I'm excited!
In years gone by, I'd write about upcoming changes in the IDE and framework, using this experience to prompt me into trawling the web and experimenting with the products. I'd employ trial and error then speculate about a few things which is ultimately how I expect most people learn. Not this time; this time I saw tomorrow's products presented directly by the people running the product teams well before they're to be launched. And after the presentations I did something I've never been able to do before – I went and talked to Scott Hunter (Principal Program Manager Lead for the ASP.NET team) and Jason Zander (Corporate Vice President for the Visual Studio Team). Not just talked, but questioned, probed, commented and had great two-way conversations. I gleaned more insight and background into these products in those discussions than I could though years of actually using them and drawing my own conclusions.
The MVP value proposition for employers
As the MVP status is awarded to independent individuals, what does this mean for their employers? I mean this is an achievement which is (usually) not going to be acquired through directly fulfilling your day job – is there relevance to the workplace? I raise this here simply because it's a topic that came up numerous times with both other MVPs and Microsoft folks behind the program.
The MVP program offers enormous benefits to the employer on a number of different fronts. Firstly, the award is frequently used as endorsement of the calibre of professionals within the organisation. For example, Readify frequently touts MVP achievements, inevitably to build confidence in their services. Other organisations leverage the fact they have resident MVP(s) in other promotional fashions, whether that be to internal customers or to those on the outside.
Of course organisations who embrace MVPs also benefit from the insight those MVPs bring via the knowledge Microsoft shares with them. Obviously within the allowances of the NDA which binds each of us, MVPs are able to bring a great deal of knowledge about how product platforms are maturing and where Microsoft is taking them well in advance of the information being publicly shared. Again, being conscious of the NDA, this offers a competitive advantage allowing organisations to better plan how to rollout, promote or build on tomorrow's technology very early on in the lifecycle.
But it's not all just about tomorrow's technology either; Microsoft invests significant efforts both during the summit and throughout the year to help MVPs better understand their technologies in depth. Frequently this knowledge transfer is facilitated by people working on the teams that build the products – the guys who literally know the products inside and out. What this means is that MVPs are able to get clued up very quickly and bring a deep knowledge of Microsoft products back into their daily work. It's another "money can't buy" benefit of having MVPs on staff.
From my own personal perspective, I also had the opportunity to engage with other MVPs I work with directly in my day job or who work for organisations offering services I'd like to bring back into my place of work. The direct, personal relationships I forged or strengthened during the summit are something I'll now be able to bring back with me and leverage in my day job. I can't quantify that advantage in dollar terms, but certainly it's an advantage I wouldn't have had access to in pre-MVP days.
I've gone into a bit of detail above simply because in my experience, the MVP program has been a win-win-win situation. It's extremely important to me that participating in the program is in everyone's best interests and fortunately my experience has been nothing but positive on all fronts.
Summary
In about three weeks I'll find out if I'm still an MVP. Unlike achieving a certification or a degree, to continue being recognised as an MVP you need to continue to demonstrate you're at the top of your game. For me, this means I'll find out on April 1st each year (yeah, I know, not a great date for this!) Hopefully the MVP of the Year award is a good sign.
And that's really a positive note to end on; whilst I – or any other MVP for that matter – am able to continually demonstrate a deep knowledge of my area of expertise and be a productive member of this thing we call "community", I get to stay an MVP. There'll eventually be a time in life where I choose a different path, but for now, the award helps drive me to continue what I've been doing. That's good for me, it's good for the community, it's good for my employer and it's good for Microsoft. Everybody wins.