.NET Rocking in Oslo!
30 June 2015
I had a crazy trip to the Norwegian Developers Conference in Oslo this month; 2 days of workshops, a user group presentation, 2 conference talks, a podcast and a panel discussion. Despite the craziness of it all though, I was massively pleased that after the dust settled on the more than 150 speakers presenting over 200 talks, I found myself up here: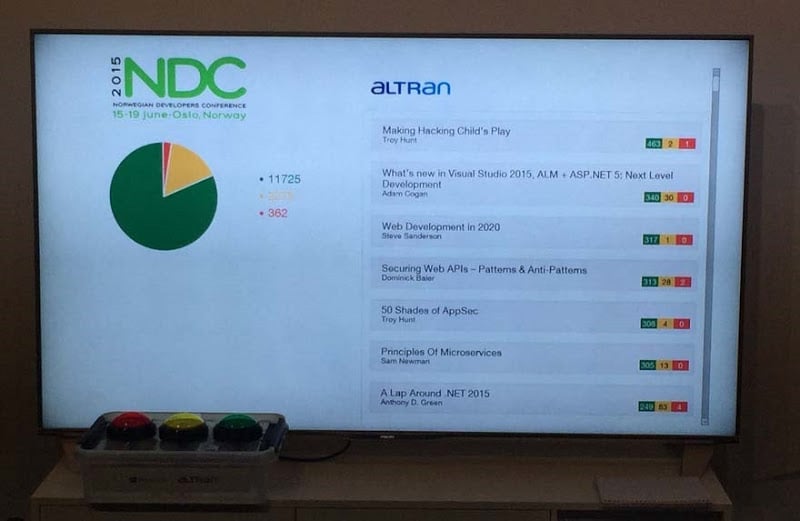 Those little buzzers in front of the screen were hit on the way out and it so happened that I had a huge number of the green ones selected for my second talk on "Making Hacking Child's Play" which put it way up in the top ranked spot. Mind you, the first talk on "50 Shades of AppSec" although did rather well coming in at number 5 so I'd call that an altogether rather successful event!
Getting back to that podcast and panel talk though, I got to spend time with Carl and Richard from .NET Rocks on both which are now available to listen to and watch here. We did the podcast first and titled it Passwords, SQL Injection and WiFi Security with Troy Hunt which you can go and listen to or comment on at that link or for your convenience, play directly here:
Two further things: Firstly, I refer to still teaching people bad patterns re SQL injection and I talk about a blog post with a serious risk which you can find at How to send forgot password link on email for reset in asp.net C#. Secondly, I'm not sure how it came across in audio as I haven't listened to the whole thing but when asked what I'd spend my $5k on, I suggested a drone (specifically one of those ones that follow you around and film you while you're snowboarding). Anyway, a few minutes later a drone literally dropped out of the air and landed next to me. A guy then came running past trying to find it and looked very sheepishly into the makeshift studio we were in. It did make me wonder if perhaps I should have asked for something more valuable!
In terms of the panel, we had an application security discussion with good friends Barry Dorrans (Microsoft employee and ASP.NET security czar), André Klingsheim (fellow MVP and the creator of the very awesome NWebsec library) and Niall Merrigan (another MVP and Irishman turned Norwegian, but otherwise very nice). The video of the panel is on Vimeo here or immediately below: