The no-name infrared IP camera for DIY baby monitoring
25 February 2010
As a new parent, I obsess about what the baby is doing. Is he awake, asleep, sucking his thumb or even still breathing? I mean I want to be quite, just not too quite. Do I try and sneak in commando style just to make sure he's all good and risk waking a sleeping baby (this is never a good idea!), or do I sit in anticipation waking for the baby monitor to confirm signs of life? I'm sure new parent paranoia is not unique to me but I like to have a little more control over my environment than just wondering what on earth is going on behind that closed door.
Recently I placed a laptop in his room with a webcam then fired up a Skype session and monitored him from the desktop in another room. I actually found it disturbingly addictive watching the actions of another whilst obscured from vision however I assure you my voyeurism begins and ends with him! The potentially creepy aspect of this aside, it was interesting to watch him go through sleep cycles and how he behaved as he woke up. It was also pretty darn amusing to see his reaction when my voice came out of nowhere telling him to "GO BACK TO SLEEP" :)
This setup was enlightening but unsustainable and impractical. It also became pretty useless once it got dark but by now I was excited and a more permanent solution was on the cards. Enter the IP camera.
About IP cameras
When it comes to cameras, and by this I mean the video kind, for this sort of thing there are a few different routes you can go down:
Dedicated device and receiver unit: these are expensive as you're getting a display unit with the package
USB camera: this is essentially my prototype which has a dependency on being plugged in to a PC
IP based camera: this can be wired or wireless and obtains its own IP address making it a network connected device
The advantage of the IP camera is that it is a fully autonomous unit with no dependency on other devices other than a router to give it a network identity. Wireless versions are also ubiquitous which is pretty handy if you don't have ethernet cabling all over the place. Finally, exposing data over IP opens up a world of possibilities in terms of how it is received; PC, mobile device, internal network or public internet. Lots of options to play with.
Choosing a camera

There are a heap of wireless IP cameras on eBay but the one which keeps coming up is the little guy on the right. I say "little guy" because I have absolutely no idea who makes it or what the model is. Other than being described as "IP Camera", it basically has no name.
Moving on, as well as being IP based and wifi enabled, this particular device supports night vision, remote pan and tilt, has a built in mic and speaker plus has a bunch of software features including motion detection, image capture, FTP, mail, externally accessible viewing and support for mobile devices. Not bad for under $90 Aus delivered or about $80 American, especially considering the specs:
Image Compression Format
Standard M-JPEG
Sensor
CMOS,300,000 pixel
Image Resolution Rate
VGA(640x480)/QVGA(320x240)
Network interface
RJ-45/10-100 Base T ,802.11b/g
Network protocol
TCP/IP,FTP,SMTP,HTTP,UDP,DHCP,NTP,DDNS,UPNP,D
NS,PPPOE
Image Max Transmission Rate
30 frame/second(QVGA), 15 frame/second(VGA)
Alert control
Output1 router(5VDC,0.1A);input:1 router(closure Trigger)
Motion Detection
Support
Software Update
Users automatically upgrade
Monitor Mode
IE browse or special program
Playback Mode
Microsoft Media Player
Security
3rd ranks password authority setting
Minimum illumination
2.0Lux@550nm
Auto White Balance
Support
Working environment
-10C°– 50C°,20% - 80%PH
The seller I ended up going with was savemoneyforyou in Hong Kong and I had it on my desk two weeks later which isn't too bad given the price which obviously included bargain basement shipping. This particular seller was pretty good in answering a couple of questions very promptly and at the time of writing had 99.3% positive feedback from 4,654 buyers. That's a pretty acceptable risk for 90 bucks.
What you get
You get a box (no name!):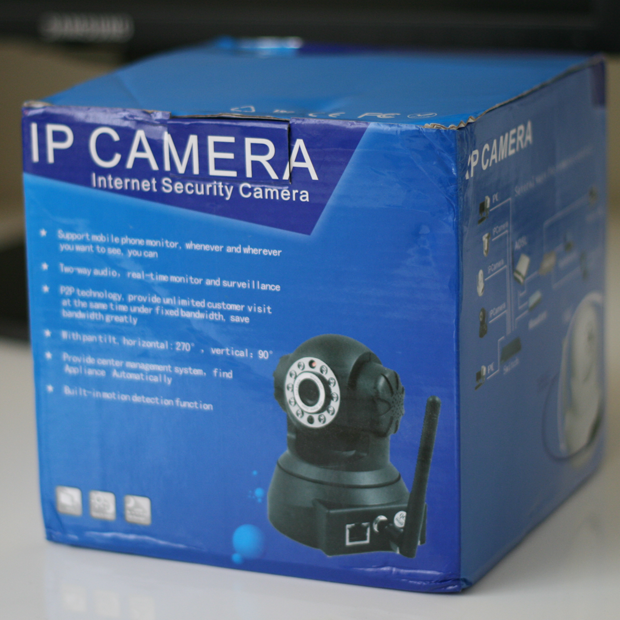 And you get a whole bunch of bits inside including a power supply (with Australian socket converter and a ridiculously short cable), a mounting bracket with an extra base plate and adjustable thumbscrews, a mini CD, an antenna and of course, a camera: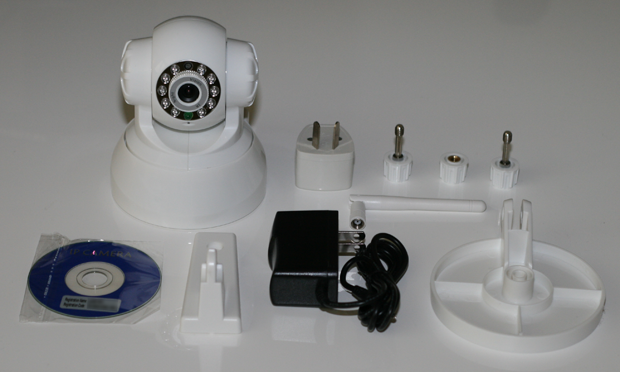 You don't get a manual, all the info is on CD which is just fine. What's not so fine is the quality of information in the PDF manual. This is Engrish personified and in some cases it's almost impossible to understand what's being said. But hey, who ever reads documentation anyway?! One thing I did enjoy reading though was the mission statement on the final page:

Indeed.
Making it work
On the disk you get a little executable which allows you to find the device by browsing the network. Plug it into wired ethernet and by default, it grabs 192.168.1.126 and exposes the device over port 81.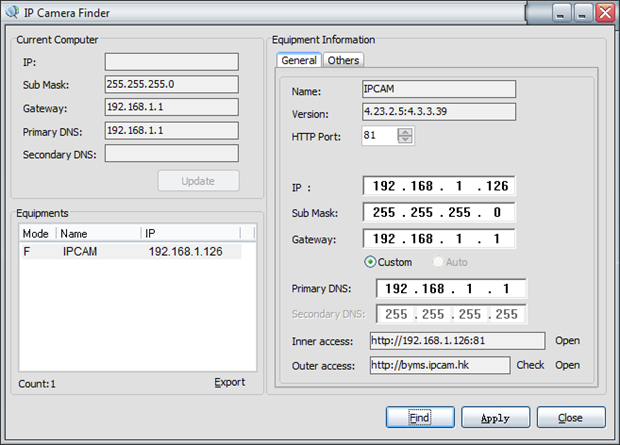 Pointing IE to the IP gives you an ActiveX installer which then fires you into the video and voila, webcam running!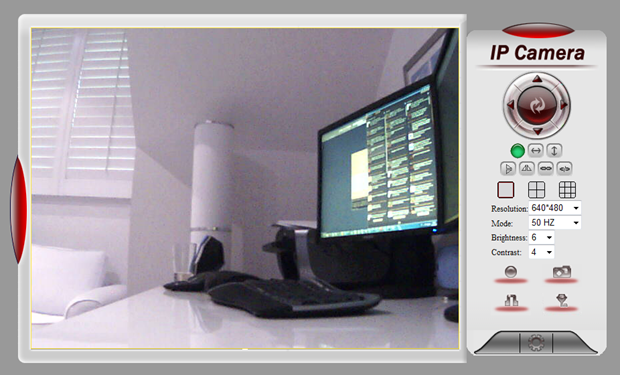 Other than the obvious video image, you also get controls to pan and tilt plus set the thing "on patrol" which means it spins around all over the place. Major geek-out factor when you first see it moving! Below the controls for resolution, refresh rate, brightness and contrast you also get the ability to record in AVI, snapshot in JPG, listen to audio or broadcast your own through the built-in speaker. The final cog icon at the bottom launches you into the configuration.
Configuration
You'll find most of the usual IP appliance options here; device info, account configuration, wireless settings etc. You also get all the options to distribute output via means such as mail and FTP or trigger an alarm based on an event.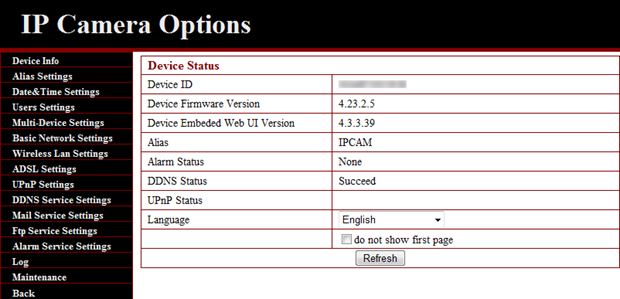 The only thing I really needed to configure was my time zone and wifi settings which I obviously did whilst still connected directly to the router by ethernet. However, no matter what I did I couldn't get the device to connect while MAC address control was enabled or while the SSID was being broadcast. I'm not real happy about this and will persevere some more but at least the WPA configuration went smoothly.
Bundled software
Quite frankly, the less said about this the better; it's a disaster zone. Other than the little IP Camera Finder app mentioned earlier on, everything else is just a train wreck of bad usability, total Windows app design inconsistency and functional flaws. Let me demonstrate; the following is a screen grab of the "IP Camera Super-Client":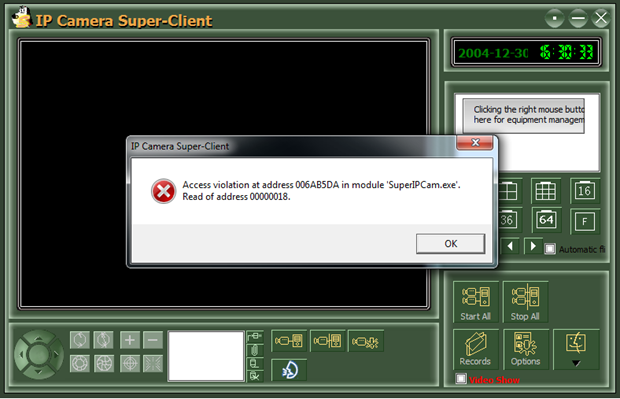 I have no idea what this does as it won't load without throwing an exception. Maybe it's not compatible with Win 7 x64 but I have no way of knowing because there's no app specific documentation. Instead, you get sentences like this (take a deep breath before reading):
When finishing adding camera, once needs to do other settings, please select the camera, and right click to choose equipment setting and then set the following parameters, also when click one monitor screen, click , and set the camera, basic information, equipment parameters, alarm, record, action plans, additional information will appear;
And then there is no additional information. When you try to exit out of the app and are prompted with "Be sure to close the procedure?" after which you'll get another exception and you get to go through the whole process again. Resource Manager –> End Process.
But wait, there's more; next up is the impressively named IP Camera Central Management System. It's a bit hard for me to say exactly what this does because no matter what I did it couldn't find the device. From the information in the manual, it appears to facilitate scheduling of events and auto recording of activity. What really worried me though was a certain odd behaviour when I was trying to get the thing to run. Look very carefully for anything unusual in the following image: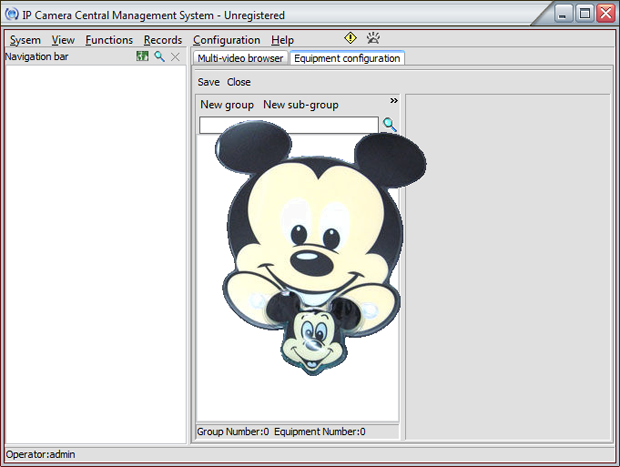 Yep, it's a big freakin' Mickey Mouse. My first reaction was "oh crap, I've just installed some Chinese software and now I have a Disney invader" but his behaviour seems pretty innocuous beyond this app. He only appears when running dual screens and moving focus off the app then he disappears a couple of seconds after the mouse stops. There's no unusual network activity on Resource Monitor while this is going on and everything else on the machine seems to be business as usual so hopefully it's simply either the world's most poorly hidden Easter egg or professionalism and usability just mean something different where this thing was built. The final straw with this app is that you need to enter your password to exit it. C'mon, I'm trying to stop doing things do I really need to authenticate?!
In short, don't install the software. The browser based edition works just fine, at least for my purposes.
Image quality
There's some interesting behaviour here so let me start with a control photo. The image below is my home office as seen through a Canon DSLR: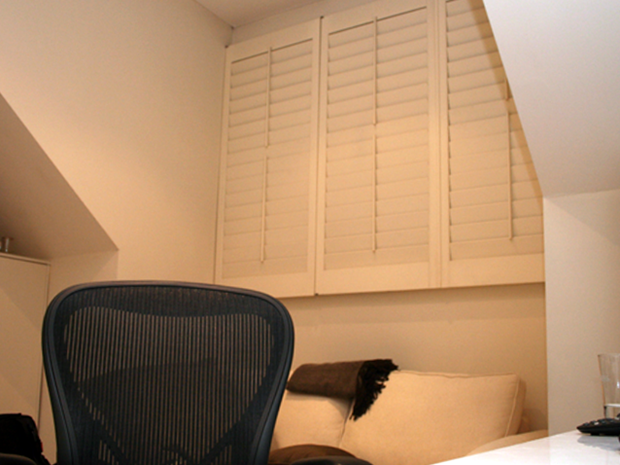 And here's the IP cam in the same light: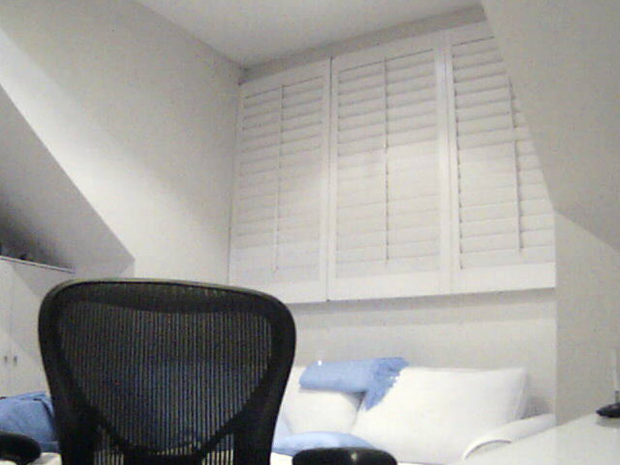 Obviously you're not going to get anywhere near the quality of a DSLR and the overexposure is no surprise but what I did find odd was the behaviour of the blacks. The throw rug and cushion on the couch plus the camera bag to the left of the chair all came out a light blue. Intriguing though, the chair itself shows the full black appearance it naturally has. Even more intriguing was that as I sat in the chair, in my black shirt, the image I saw on the camera showed me in light blue. Here's the same DSLR versus IP cam comparison:

Picture perfect image reproduction was never really important but this behaviour did take me by surprise. I can only assume it's somehow related to the filters or infrared capabilities of the device. Which is a good segue to the next image. Here's how the same shot looks with no light. And by "no light" I mean during the night with no sunlight creeping through the shutters and every single light turned off: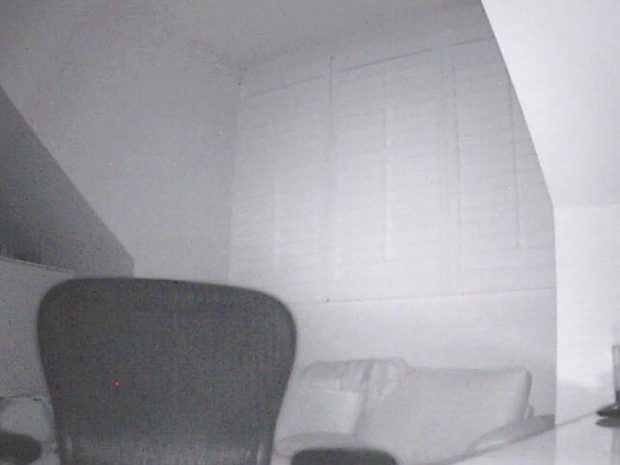 This image is real pleasant surprise. I honestly didn't expect a $90 "night vision" webcam to have anything like the clarity in the above shot. This is more than sufficient for the purposes of "baby spying" and clearly exposes every feature in the room. The only letdown is the red dot in the middle of the chair which is obviously a defect. Similarly, you can see what looks like a tiny white lens flare in the centre of the black part of the chair in the previous image. Bit of a shame but again, it's hard to expect perfection from 90 bucks.
You start to get a bit of a gist of how enough light to create the image above is generated when you see this thing running in the dark from the front. A total of 10 red LEDs surround the lens once light levels drop sufficiently (the green LED indicates activity and is also visible under fully lit circumstances):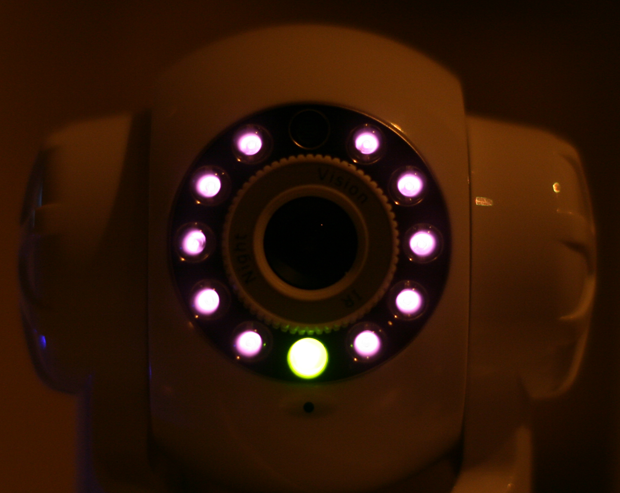 Having a bit of a trawl through the web, it seems that higher quality IR cameras have less visible light emitting from the diodes and that the appearance above is pretty typical of what the low entry price gets you. Higher quality LEDs apparently emit light at longer wavelengths whilst the cheaper versions, such as the one above, have shorter wavelengths which creates the visible reddish or pinkish glow.
iPhone compatibility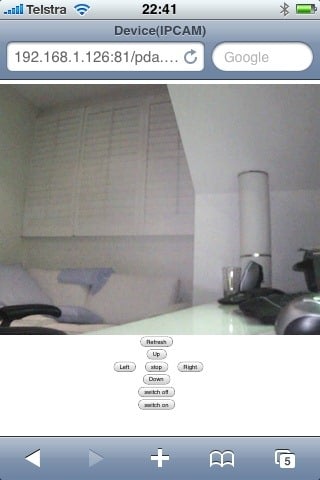 This was important to me as both my wife and I have iPhones and we needed them to work while wandering around the house. The web interface comes with three different mechanisms for viewing the video feed:
"ActiveX Mode" for use in IE which obviously uses an embedded control
"Server Push Mode" for other browsers which pushes down a stream of JPG images
"Mobile Phone" which just refreshes a JPG every few seconds
The mobile phone mode runs pretty well (see image to the right) but the controls are very clunky to use. I found Safari on the iPhone does a pretty good job of rendering the "Server Push Mode" anyway which pretty much makes the mobile version obsolete for my purposes.
Server push mode renders with all the controls surrounding it as seen in one of the first images above. Neither the "picture frame" effect nor the controls are really needed for the purposes of mobile viewing so I've just bookmarked the video stream itself directly which is at /videostream.cgi on the device.
Audio
Just don't even bother. As soon as either the mic or the speaker is activated the frame rate drops dramatically. I suspect this is more to do with the processing power of the device than the increased bandwidth but either way, the end result is the video becomes pretty useless. It doesn't really concern me as we have an audio baby monitor but it could be frustrating in other circumstances.
Let the baby spying begin!
So configuration complete I installed it just above the little guy's bed at an angle that gave a pretty full picture of what's going on. The camera simply remains turned on then once he gets put to bed we get a nice 640x480,  view of the following: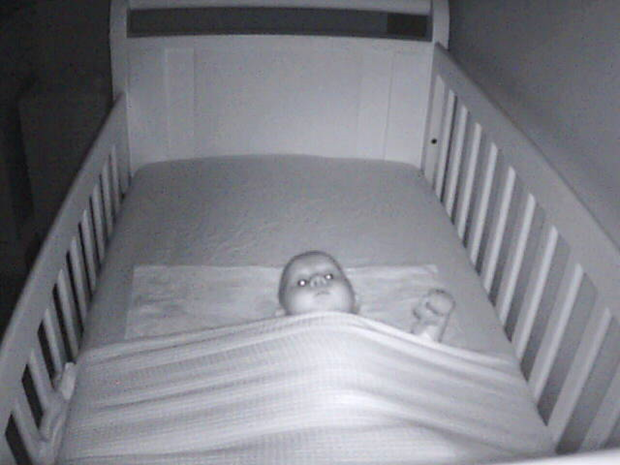 This is just what I was after! The software sucks, the audio is dismal and I have no idea what the manual says, but to get a picture like the above in total darkness and transmitted wirelessly so that it's consumable on PC or mobile and to do it all for only $90 is a very pleasing result.
Update: I've used the video capture feature and added some video action below.