Building the ultimate virtual office
06 December 2009
I'm fortunate enough to work in a role which allows me to spend of lot of time talking to people in all sorts of places around the world on a daily basis. As much as I enjoy this varied communication, it plays absolute havoc with your working hours. It's not so bad speaking to folks in the Americas (I'm a morning person!) and that works well for them but throw in a country somewhere between Sydney and New York and you always end up with a pretty inconvenient time for at least one or two parties.
All this has led to me spending a lot more time taking calls from home in part because of the odd hours but also because it allows me to work in an environment without the usual disruptions you get in an open plan office. On top of the usual work calls and out of hours business, I've found myself spending a lot more time researching and playing with emerging technologies lately, all of which has me spending more time in this environment. Given this, I decided to set out and build what for me is the ultimate virtual office. A lot of time and research went into getting everything setup just right so I thought I'd share the results in the hope that other people might find it a useful reference.
Environment
The first thing is I'm fortunate to live in a house that has a lot of space. I've got an attic area which is not part of a thoroughfare to other parts of the house and once the door is shut, is isolated from anything else going on downstairs. Having lots of space is not essential to a virtual office but it sure does give you more options when you come to designing one.
Research
Firstly, there are a heap of opinions out there on what works well and not surprisingly, not everyone agrees with each other! Having said that, I did start to see a couple of trends which have ultimately formed the cornerstone of my own virtual office. Some of the resources I found really interesting included a Shed Turned Home Office, Scott Hanselman's Home Office and this pretty extreme example. See any similarities with these? Two things; lots of screen real estate and a very cool chair. In fact exactly the same chair in each example.
Chair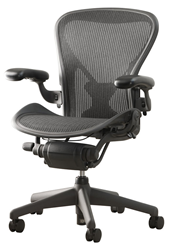 This might not seem like a logical place to start, but the chair is quite possibly the most important item to go into any office, virtual or otherwise. Beyond just the fact that you spend a considerable amount of time sitting on it, the chair goes a long way to determining your health (particularly when it comes to RSI), your comfort and consequently your productivity. The other thing is the chair has possibly the longest lifespan of just about anything you put in your office. Having said that, it's a question of quality. A cheap item from Ikea is not only going to expire pretty quickly (my previous one got a few years before it started falling about) but it's also going to be pretty uncomfortable in the process.
This is where the Herman Miller Aeron comes in. This is as much a piece of art as it as a functional piece of furniture (Wikipedia actually says there's one in the New York Museum of Modern Art) and it was a symbol of exclusivity during the dot com boom. Interestingly enough, I'm actually seeing a lot of them now on TV shows, being used by news readers and even by the receptionists in the office (not sure why we ended up with simple plastic ones…).It's an extremely solid piece of furniture with many components such as the arms on the base of the chair being solid steel and not the usual plastic. Even the arms on the arm rests are solid and topped off by nicely padded, adjustable (everything's adjustable!) rests which are very comfy.
The downside with these is that they're not cheap but it really is a matter of getting what you pay for. Given the amount of time I spend in it and the lifespan I expect it to achieve I decided to take the plunge and dive in. You can get them in a few different sizes to suit, shall we say, different "girths" and although the medium was a snugger fit I ended up going with the larger one which allows me to really sink back into it and even comfortably cross my legs on the chair. The beautiful thing about this chair is that no matter which way I lean or how I position my body it's always comfortable. I can happily sit in this all day long without getting sore or cramped which is not something I can say for any other chair I've used before.
Couch
Ok, this is by no means mandatory office furniture but it has become a lot handier than I expected. It gives me the opportunity to change my working style without actually leaving all the office facilities or becoming distracted by external factors. I love being able to take the laptop over with me and work through a backlog of emails or get engrossed in typing a document whilst I've got my feet up. It's just perfect for when you need a change of environment without breaking from the focus an office environment gives you.
Monitors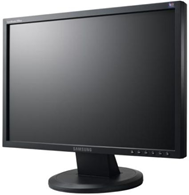 There's an easy rule of thumb here; the more and the bigger the better! Widescreen LCD monitors have gotten very cheap recently and the sweet spot of value versus features is going up pretty quickly. I found the 24" models are right on the money at the moment, so I got two. Other than the size and the price, the main thing that was important to me was height adjustability. I didn't want to end up needing to jack up the height with monitor stands or arms; it just needed to work out of the box.
The other really critical thing is that it needed to support 1920x1200 resolution. The resolution is really important because at 24" you don't want to be looking at massive pixels which is where you'd end up at traditional resolutions. Just to put that resolution in perspective, we're talking about 2.3 million pixels multiplied by two monitors which is the equivalent of having six traditional 1024x768 monitors.
Samsung have got a pretty good range of monitors which are not only height adjustable but also have very good ratings for response times, brightness and contrast so I ended up getting two 2443BW models. The monitor also includes a built in USB hub which I don't personally use but it's always handy to have. The whole screen can also rotate 90 degrees which I'm sure could be very useful in some contexts but I don't expect I'll have a need to use it in the mode. Like most LCDs these days there are inputs for both VGA and the digital HDMI format and the box also included a VGA to HDMI converter so plenty of connection options are available.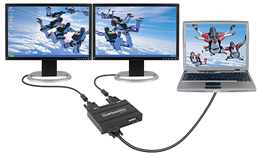 The next thing was making sure both monitors were usable simultaneously. There are heaps of studies and articles out there about multiple monitor productivity and it's becoming unheard of for software professionals to just scrape by with a single screen. The trick is making sure the PC hardware can make the most it. My home PC was straight forward as I have a video card with two HDMI out connections so it was just a matter of plugging them in and letting Windows work it all out. The laptop was a little trickier though. In the office I use a docking station which has both a VGA and an HDMI out so I simply plug both those in to the two monitors at work but I didn't want another docking station to be "docked" at home.
Fortunately Matrox has a really neat solution called DualHead2Go which is a little hardware device with a single VGA and a USB input and two HDMI outputs. This device can output two video streams of up to 1920x1200 each by tricking the host machine into outputting one massive video image (dependant on graphics card and driver version) then splitting it in two before sending the signals to the monitors. The USB connection then uses bundled software to give the machine a sense of what size each window is so you can do things like maximise your windows just to a single screen. Finally, the device can actually output the two 1920x1200 streams plus still use the built-in laptop screen of the same res so you can effectively have three screens totalling 5760x1200.
Desk
There's really not a lot of technology that goes into a desk. The success Jeff Bezos has had using a door as a desk is proof you can reach great heights without being high tech! For me, the primary criteria was to have enough space without feeling cluttered. I needed to fit a couple of sizeable monitors, my laptop, phone, multifunction printer and have usable space for keyboard and mouse and still feel like I had plenty of free space. I was also aiming for a very light and airy feel so in the end I went for a white enamel item which included a primary desk, a return and some drawers. The return has actually worked out very well as it gives me a place to sit the laptop and use it simultaneously with the desktop.
Silent PC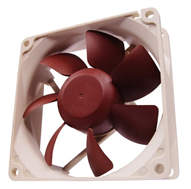 I didn't realise how much of an issue fan noise was until I began rearranging the office and moved my home PC into a location that that directly above our bedroom. The low frequency vibrations that fans put out tend to resonate through floors and become quite audible while lying in bed so something had to be done about them. In a quest to remove and replace the noisy culprits I ended up replacing the two 80mm fans on the front of the case, the 80mm one on the back and the entire power supply. After all that, I accidentally snapped a pin on the CPU when trying to replace the heatsink fan and to cut a long story short, I ended up in a vicious cycle of replacing interdependent components (or others that were just too old) until I had an entirely new motherboard (with no fan this time), CPU (with a super quite, gigantic heatsink fan), graphics card (with no fan) and RAM. Basically everything but the case and the drives!
What I learnt about making a PC silent was quite interesting. There's an entire site called Silent PC Review dedicated to the art of eliminating noise. The crux of making a PC silent is to use larger, lower revolution fans with high quality bearings and to use dampers between any moving devices and the mounts to the case. To that effect, when I ordered the fans I also order siliceous sheets which are essentially moulded pieces of silicone which sit between the fan and the case and act as little dampers. The Noctua fans I bought also came with rubber mounting pins instead of the usual plastic ones so noise or vibration transfer through to the case is absolutely minimised.
Speakerphone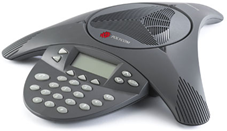 One thing I do a lot of is talking on the phone. Unfortunately not so much in the social sense but very frequently on teleconferences and often for an hour or more. Handheld phones are simply too uncomfortable for this style of working, especially when meeting participation can often be a passive task and you want your hands free to do other things. The other thing is you really need a mute button out of courtesy to other meeting participants so that when you're not talking you can type, answer your mobile, have noises going off in the background or whatever else without being an inconvenience to everyone else.
I looked at a lot of different speakerphones but kept coming back to the Polycom Soundstation. You've probably used these in meeting rooms before and they're almost the de facto standard for voice conferencing. Unfortunately they're not cheap when they're new but there are plenty of them on eBay and I managed to pick one up for not much more than a tradition style phone with speaker capabilities.
VOIP communication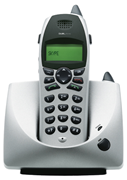 If you're not using VOIP in some fashion then the chances are you're paying too much for phone calls. As much as I like the idea of VOIP though I don't like the idea of being tied to my computer nor do i like the idea of having one phone for landline (I still want to at least receive phone calls over PSTN) and another for IP based discussions. Fortunately there are a few "dual phones" out there where the base connects to your analogue phone line and either to your PC (which then runs a client) or directly to your wireless router. I ended up getting some cordless Dual Phones which consist of a base then several satellite phones with charging bases you can distribute around the house. As it turns out, they've all broken (yep, all three of them) but the concept is very good and I'm sure I'll find another hardware manufacturer that does a decent job quality wise. Great concept, just poor execution by this particular manufacturer.
Ergonomics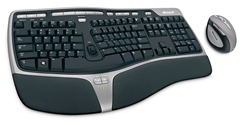 Most people (myself included) only begin to think about ergonomics after they begin suffering from working in an ergonomically unsuitable environment. I began getting tingling in my fingers which would then go all the way up my arm and become quite painful. I ended up getting some physiotherapy which included giving me exercises and stretches which helped but the biggest change I made to my working style was to get a decent keyboard and mouse both in the office and at home. These are such simple, comparatively cheap devices and they can make a huge difference to the way you work. If you're like me and regularly spend the whole day (and often night!) in front of the computer then take a look at the Microsoft Ergonomic Desktop 7000. This is widely considered the equipment of choice by those in programming circles and has almost completely reversed my RSI symptoms.
Audio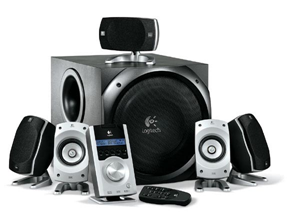 More than just making beeps and alerts, I use my audio setup pretty extensively for watching video content and very regularly for listening to music. This isn't everyone's cup of tea in an office environment but I like having the option to pump out something that suits my mood. I already had a Logitech Z-5500 which is a pretty typical high-end PC setup. One thing I really like about it is that it has an optical in which I can drive from the PC plus a standard analogue audio jack I can plug into the laptop or iPhone as required without disrupting the PC setup. You can then select the input source as well as control the volume from a desk mounted control unit which is really neat.
Multi-function printer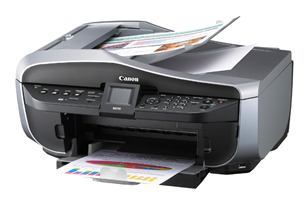 These are literally a dime a dozen now and are very handy little devices. The Canon PIXMA MX700 I got was only a couple of hundred dollars and is a colour scanner and copier (both with automatic feeder so you do stuff in bulk) as well as a fax and a colour printer. The other really neat thing about it is that it's network attached so there's no dependency on sharing it through a PC. It's just always there and always on independently of any other devices.
The only complaint I have of it is that for some reason I can't set the fax to allow more than five rings before answering which is leading to a lot of running around the house when the phone rings (shared phone / fax line). I think I'll just bite the bullet and call tech support or even just unplug the phone line; who sends faxes these days anyway?!
Cable management

This is going to sound like I'm a bit fussy but I hate it when you end up with cables all over the place. At last count I have 18 separate devices all plugged into power and easily double that many other cables so there is a lot going on under the desk. The easiest way I found to get everything properly organised was to buy a few cable trunking devices from Ikea which you can then mount up under the desk and run the cables through. It's a neat design with lots of little wire "fingers" sticking out from the edges so you can drop cables off or join them back to the trunk at any point. Once it's all set up it means you can pretty much secrete everything up under the desk and not need to look at it on a daily basis. Of course if you get under the desk and see what's going on it' a bit of a nightmare but I tend to avoid doing that!
The end result
In the end the whole process took longer and cost more than I expected but I'm very happy with the result. I've now got an environment I can comfortably sit in for hours on end in peace and quite with everything I need to be super effective right at my fingertips. My biggest problem now is making sure I make a conscious effort to get out of the office and enjoy the beautiful Sydney weather!
Here's how it all turned out: