Get more awesome Pluralsight content than ever for zero dollars!
04 December 2015
Pluralsight content remains enormously popular among a growing audience of technology pros not just because of the breadth of content (we're talking about well over 4,000 courses now), but because it's so cheap to get into. Less than a dollar a day and you've got access to some really top notch content that's created by some of the best in the business then scrutinised and peer reviewed to ensure it's right up there as the best possible training material you can find on the web. It's amazing the lengths people will go to get their hands on Pluralsight courses…
But here's the good bit – more content than ever is now available without spending a cent and there are two reasons for that.
Firstly, if you're an MSDN subscriber there's 15 courses you can go and watch right now that are free with your subscription:
My obvious bias has lead me to highlight one in particular and I'm really pleased to see my Azure course being made available to so many people. This is a real practical "from the trenches" style course with a heap of knowledge from building and running Have I been pwned? now available to everyone in that course.
Secondly, Microsoft has just announced Visual Studio Dev Essentials and here's the really awesome bit: if you sign up to that – and it's free so so there's nothing stopping you – you get all of Pluralsight's library for free for six months! That's massive!
Just to make sure I hadn't misinterpreted things and you had to sign away your kids or something else nutty first, I went through and signed up myself and sure enough, yes, it is what it says it is. Right after signing up to Dev Essentials I was able to activate the Pluralsight subscription: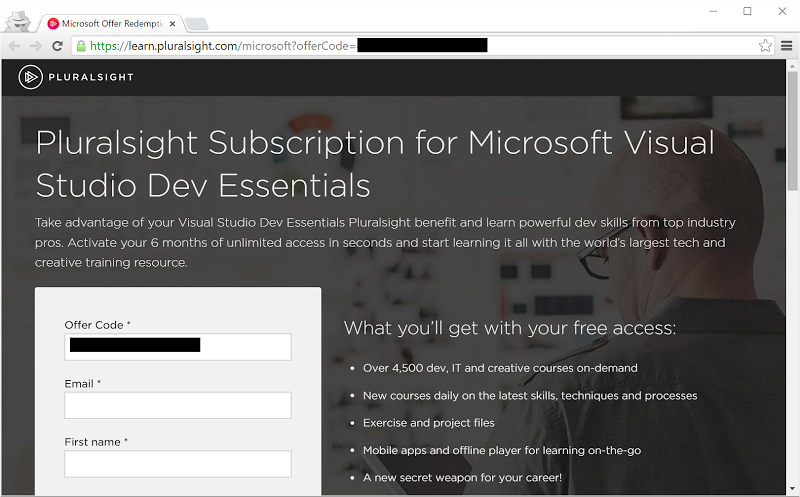 All I gave them was a name and an email address, not credit card details or other personal data, that is all. Literally within 5 minutes I had access to the entire course library for the next six months: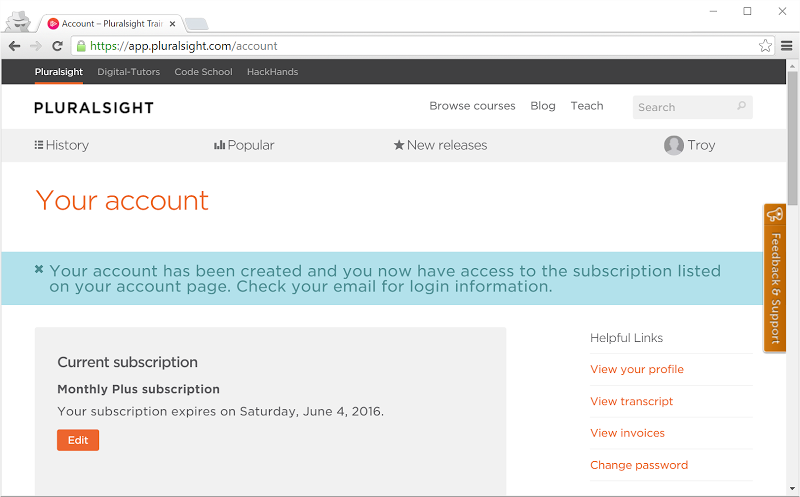 This is awesome value because, well, it's free. In case you're wondering, for me as an author I still get all the usual royalties so that's nice and for the sake of full disclosure, yeah, I still get all the usual royalties!
So that's it, a totally legitimate and totally free way to get Pluralsight content right now. Enjoy!