Interview with the man behind Comantra, the "cold call virus scammers"
08 May 2012
If you live in a western country and have a landline telephone with a listed phone number, chances are you've been "cold called" by someone on the other side of the world with an introduction that goes something like this:
"Hello, I am from the Microsoft technical support division and I am calling you because we have detected some problems with your computer. This is very important – I need you to go and turn your computer on right away…"
It doesn't matter if you have a computer, in fact it doesn't matter if you've never even touched a computer because these calls are totally random. There is no implicit support that will proactively monitor your computer from a central location, these calls are nothing more than a scam intended to prey on the fear of unsuspecting people who can be convinced there are genuine problems with their PC so that they can be parted from their hard earned cash for "support" they don't need.
I had been on the receiving end of this scam myself a number of times so I began recording several of the events and posting them to YouTube and this blog. Tens of thousands of views and hundreds of comments later, its clear this scam is rampant and many people are indeed being stung by it.
So I decided to contact the man behind the company which most frequently features in these scam calls: Comantra. That man is Rajesh Bajaj:
I came across Rajesh after doing some basic research on Comantra and a quick Google confirms he is indeed the man to talk to. As it turns out, Rajesh has his own counterview of how Comantra operates and was willing to answer some email questions which I promised to reproduce in their entirety.
The interview
1. What is your role at Comantra?
I am the director
2. Comantra describes themselves as a "technical support service". How does Comantra usually acquire new customers?
Please check the below link it
https://www.comantra.net/site/news/105
http://comantra.wordpress.com/2012/03/12/long-awaited-new-mantra-from-comantra-is-all-set-to-strengthen-brand-repositioning/
we are not not accepting any fresh registration.
3. There have been reports of Comantra "cold calling" perspective customers in countries such as Australia and the UK. Has Comantra ever made unsolicited phone calls to perspective customers?
Yes, telemarketing and telesales also was part of our sales team however sales team was suppose to stick to a quality script like its as pc health check call
4. There are claims that operators purporting to be from Comantra have phoned individuals and advised them that their PC is infected with viruses. Is there any truth to this or is it a case of Comantra being a "victim of organised reputation assault" as you've suggested on your blog?
Yes you are correct we have been victim of organised reputation assault. We were following a very strong and a quality script like its as pc health check call however we have received number complaints about it even though we have stop the registration we still get mail that they received the call from comantra. Our research team has also found that there are some companies who are making cold calls without even having a website and with the customer demand, different companies website are presented whom they don't even relate to. They also charge them with western union.
5. One of the services Comantra offers is the detection and removal of malware and spyware. How is malicious software usually identified by Comantra and can you do this remotely for individuals who are not yet customers?
Malware or spyware removal is a job of a tool the only expertise required is that we have choose the correct tool for the stipulated problem.
Yes do entertain non registered customers as well we show them our technical team skill and also if they like the service and happy with result they pay us accordingly like for a incident or a annual subscription.
6. Have Comantra staff ever been trained to refer to warnings in the Windows Event Viewer as harmful files which indicate infection on the PC?
no
7. Has Comantra ever sold Windows warrantees and if so, what does this comprise of?
No, we only cover software part which is windows, the platform on which the major computer runs could be said as AMC in which we do not cover hardware part.
8. Are you aware of any other organisations making cold calls and claiming to have remotely identified viruses on individuals' PCs?
No comments
9. In September last year, it was reported that Microsoft ejected Comantra from its Gold Partner program. Could you tell us a little more about this situation?
This was really disappointing for us it took a lot for us to get this we even discussed this matter with Microsoft to reinstate back our status but was we met the failure in it.
The fair reason was a negative reputation for our company which would have encouraged the Microsoft in taking this decision
10. Is there anything else you'd like to add about Comantra in relation to the claims of it being involved in a scamming program?
With complete negative result about our company we were forced to stop the registration and we have closed our sales team and are only operating with our technical department to serve our registered customers. However we we are building a very strong and tested marketing strategy to get the new customer. we have a plan to start a fresh registration again in the near future which will not include telesales only inbound calls will be entertained.
Closing comments
Let me list out a few observable facts. Firstly, Comantra's website is located at comantra.net and a WHOIS on the domain name confirms Rajesh's involvement: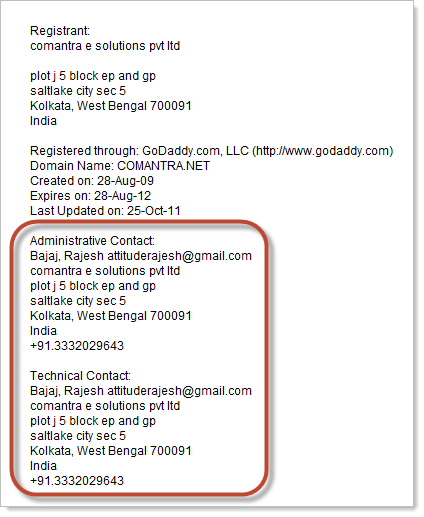 The website lists the Australian phone number 0872001644:

As I got more involved in tracking this scam, a number of people contacted me and provided me with this number and Comantra's name, both of which had been left with them by callers claiming to have remotely detected malicious activity on their PC. A Google search of this number returns numerous results about being cold called by Comantra and the Event Viewer being used as a means of convincing people of the presence of viruses. There is also a UK number – 01916451644 – and a US number – 8882266073 – both of which yield similar search results.
This is also the phone number I called in my video about Scamming the scammers. During this (admittedly lengthy) video, there are numerous points where the identity of the organisation is confirmed as being Comantra, including when I'm taken to their site to register then make payment: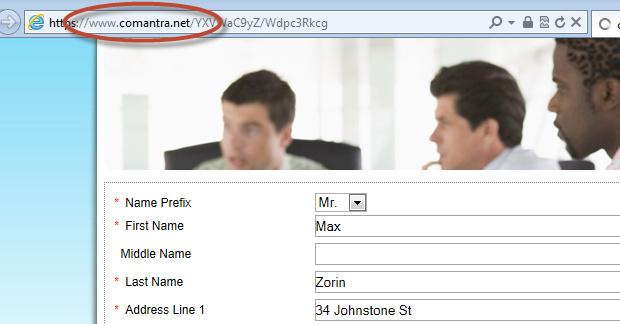 The Windows 7 image I used in the video was a clean install with all the latest service packs, patches and running Microsoft Security Essentials. It was 100% free of malicious files or anything else which would cause adverse behaviour by the machine.
During the video and after being directed to the Event Viewer, I was told "This is the errors and the warnings that are in the computer, these are the very harmful files in the computer" followed by "That is the reason your computer is having a lot of problems". When I asked about the errors I was told "These are the corrupted files" then "This are not functioning properly in the computer" and "The software part of your computer is getting corrupted day by day".
When discussing the Windows warranty, I was told "You've got two types of warranty on the computer, one is the software and another is the hardware" then "The software one is for 4 years and the hardware one is for 5 years" and "As the software warranty expired from the computer that's why your computer is experiencing problems". When I asked if I could pay the warranty directly to Microsoft, I was told "No, as we are the service providers of Windows operating system" and "We take care all the users of Windows operating system all over the world".
The discussions above were indisputably held with Comantra staff.
I made a commitment to Rajesh to report on the interview he gave in an entirely objective fashion so I'm going to sign off the post like this: You be the judge – use the comments below to express your opinion and draw your own conclusions. Is Comantra indeed running a scam or is it possible, as Rajesh claims, that they're a rising star fallen victim to organised reputation assault?