"Pwned", the Book, is Finally Here!
08 September 2022
The first time I ever wrote publicly about a company's security vulnerabilities, my boss came to have a word with me after seeing my name in the news headlines.
One of the worst days I've ever had was right in the middle of the Have I Been Pwned sale process, and it left me an absolute emotional wreck.
When I wrote about how I deal with online abuse, it was off the back of some pretty nasty stuff... which I've now included in this book 😊
These are the stories behind the stories and finally, the book about it all is here: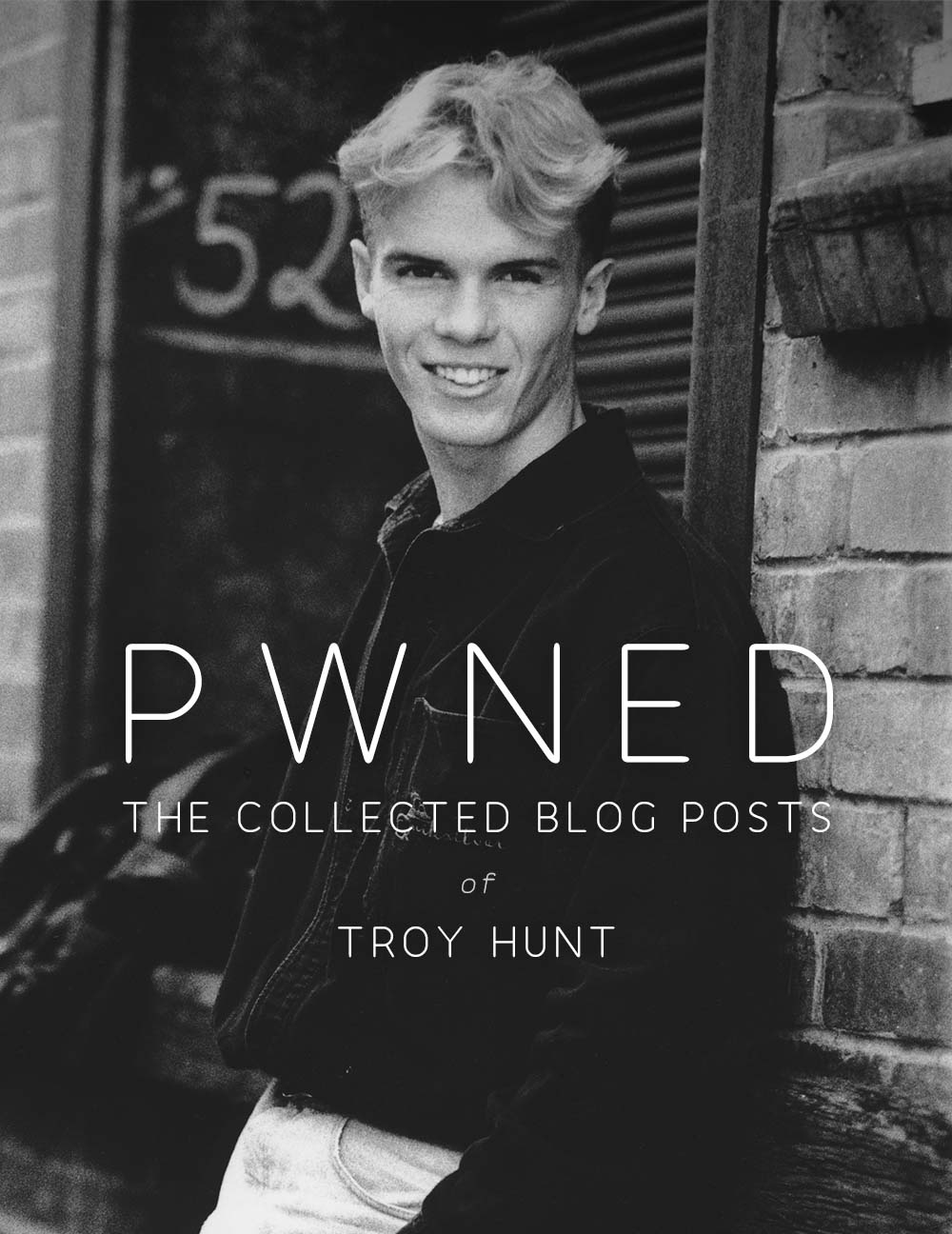 I announced the book back in April last year after Rob, Charlotte and I had already invested a heap of effort before releasing a preview in October. I'd hoped to have it out by Christmas... but it wasn't perfect. Ok, so it'll never be perfect without faults of any kind, but it had to meet an extremely high bar for me to be happy with an end result we could charge people money for. I completely rewrote the intro, changed a bunch of the posts we decided to include, reordered them all and edited a heap of the personal stuff. Rob wrote an amazing intro (I genuinely felt emotional reading it, given the time of both our lives he refers to), and both Charlotte and I wrote pieces at the end of it all. That bit in particular is very personal, and it's what was the most natural to us at the time. With our wedding being only next week, it just felt... right. That's why we're publishing today; to get this story about the earlier phases of my life out before the next phase begins. There are things we both wanted to say, and I hope you enjoying reading them 😊
We actually pushed the book out to a preview audience a couple of weeks ago and requested feedback to make it even better before releasing to the masses. We got two kinds of feedback: typos, which we've now fixed and testimonials, which have been awesome:
Great read! Troy has the technical know-how, and is able to effectively communicate complex topics so that anyone understands them. The personal stories kept me hooked!

- Mikko Hyppönnen
I haven't been able to put the book down. The added intros and epilogue on each post in particular and the retrospectives from today's perspective are particularly interesting... Captivating stuff, apart from infosec, you really feel as though you've been taken on a journey with Troy through the years of living in paradise a.k.a. Gold Coast, craft beer, good coffee's, travel and jet skis. Top of my list for resources I point anyone new to the space to. Simply Outstanding read - 10/10.

- Henk Brink
Love, love, LOVE the intros - i'm only familiar with Lars in terms of his online identity and videos, but the "commendations" from Richard Campbell, and in particular Rob Conery are fantastic and really anchor an emotional aspect to the book, that i was not expecting. Great to see a book deliver this authenticity - we're all only human after all!. I "cheated" and also skipped to read Charlotte's epilogue and again was blown away by the depth and genuine nature of the emotion on display. I honestly was not expecting there to be so much heart on display, but am very glad there is.

- C. Morgan
A famous American newsman used to call this "The rest of the story." This is the kind of insight that only comes with time, as the author can reflect and pick out important details that didn't get the coverage they deserved and these then find a life of their own. This book provides "the rest of the story" behind other stories which broke months or years ago. It gives these stories new life, and new significance.

- Pat Phelan
PWNED! Troy Hunt takes us on his life journey, ups and downs, explaining how haveIbeenpwned came to be, raising awareness of the world's poor password and online security habits... This book has it all. Plenty of tech, data breaches, career hacks, IoT, Cloud, password management, application security, and more, delivered in a fun way. This info is gold, and has improved and complemented my career in IT, and also my digital life at home too. I highly recommend this book as it explains cyber security so well, and hope you have your eureka moment and improve your cyber hygiene too.

- George Ousak
I never imagined turning blog posts into a book, but here we are, and it's come out awesome 😎 This book is a labour of love the three of us have poured ourselves into over the last couple of years. It's a personal story I'm publishing at a very personal time and it's now live at book.troyhunt.com